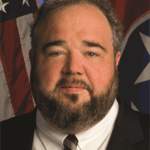 Dr. Kenneth C. Hill is president of Southwest Radio Ministries. Dr. Hill has pastored churches in Indiana and Tennessee while serving as Vice-President of SWRC since 1993. Since 1981, Dr. Hill has been in charge of a ministry that presently has a growing video outreach and operates five radio stations in Northeast Tennessee.  Since 1993, during his time of service on the SWRC Board, he has produced hundreds of audio and video programs; written articles and books on Christian themes; and spoke often in conferences, evangelistic outreaches, and special meetings.  On March 1, 2021, upon the retirement of Dr. Bob Glaze, Dr. Kenneth C. Hill became the president of SWRC.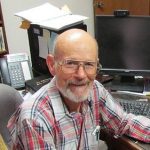 Dr. Larry Spargimino is host of the Watchman on the Wall broadcast and joined the ministry in 1998. Larry researches and writes books and articles for the ministry, writes segments for our video broadcast, assists on tours, and helps answer listeners' theological questions when they call the ministry. Larry holds a doctorate from Southwestern Theological Seminary in Ft. Worth, Texas, and pastors a local church. Larry also serves as vice-president of SWRC.
James Collins joined the ministry in March of 2021. James is the Staff Evangelist for Southwest Radio Ministries. He previously served in various pastoral positions in Kansas, Oklahoma, Illinois, and California. Before being called to SWRC, James was a Chaplain in the United States Army and served in Operation Enduring Freedom, Operation Iraqi Freedom, Operation New Dawn, and Operation Inherent Resolve. He and wife share their home with three extraordinary children, three dogs, and a lifetime collection of books.
Marvin McElvany started with the ministry in 1992 and has held various positions within the ministry. His title is Assistant Manager, and he also works as the producer, computer technician, announcer, and editor for the ministry's audio and video content.
MiMi Davis started with the ministry in 2001. MiMi processes the Internet orders and is the director of the Onesimus Project, our prison ministry, which reaches prisons all across the United States.
Christi Killian has worked for the ministry since 1981. Christi has filled numerous positions over the past 35+ years and is now our graphic artist, typesetter, and web designer. Christi designs the covers for our books, CDs, and DVDs, as well as doing the editing, typesetting, and proofreading for all the books and articles the ministry publishes.
Janice Cheek has worked for Southwest Radio Ministries since 1986. Janice has also filled various positions in her tenure with the ministry. She is currently serving as Dr. Glaze's administrative assistant.
Tabitha Cook joined the ministry in February of 2021. She works in the call center, where she answers telephones, handles customer service issues, and processes  telephone and mail orders.
Danny Phillips has worked for the ministry since 2000. He works in the call center. He answers telephones and processes orders. Give him a call. Danny loves to talk.
Donna Smith started with the ministry in 2010. Donna works in the accounting department, ordering books, opening mail, and processing general accounting duties for the ministry.
Edward G. Webber started with the ministry in 2007. Edward is the Senior Media Services Administrator. His other duties include supervising the call center, maintaining the website as well as our mobile app. Edward is also our event specialist for our prophecy conferences. He is the son of Dr. David F. Webber and grandson of Dr. E.F. Webber, founder of Southwest Radio Church Ministries.
Alan Joy has worked for Southwest Radio Ministries for ten years. Alan is the print shop supervisor, where he runs the presses and directs the workflow within the print shop.
Matthew McElvany has worked at Southwest Radio Church since October 2010. He is the media manager. Among assisting various aspects of the ministry he also attends college.
Chris Enders has worked at the ministry for several years. He takes care of shipping and receiving.
The staff of Southwest Radio Ministries works hard to minister to our listeners and to glorify the Lord Jesus Christ in everything we do. We are honored that you are our partners in faith as we work to tell everyone of salvation in Jesus Christ before His imminent return.