Pakistan, or "Land of the Pure," is an Islamic country in South Asia, bordered by Afghanistan, Iran, China, and India. Over the years, Pakistan has been subjected to numerous invasions by Persians, Greeks, Turks, Afghans, Mongols, Sikhs, and the British. Pakistan finally obtained independence from India and became an Islamic nation in 1956.
Wikipedia describes Pakistan as a country "characterized by periods of military rule and political instability." This was evidenced in the assassination of Pakistan's former prime minister Benazir Bhutto in 2008 and the continued fighting between Taliban terrorists and government military forces, backed by the United States.
Pakistan has a population of over 170 million people that speak any of 60 different languages, although English and Urdu are listed as the official languages of the country.
Most Pakistanis are Muslims, of which 70 percent are Sunni and 30 percent are Shi'a. Hindu is the next largest religious group, numbering approximately 3.2 million. Christians are third, with 2.8 million. The rest of the Pakistani population are Buddhists, Baha'is, Jews, animists, and other religious groups.
Although officially a Muslim country, many in Pakistan are hungry to hear the Gospel. Southwest Radio Ministries provides funds for Bibles to Victor Sammuel who is leading a church mission in this dangerous country. Dr. Spargimino preaches to Victor's congregation on Bible doctrine and end-times Bible prophecy via Skype. One such meeting drew 400 people to hear the Gospel.
Southwest Radio Ministries supports a Christian school for those children who are not allowed to go to government schools because of their faith. The ministry also provides funds for food and medical care. Recently, 30 heads of Christian families lost their jobs. Southwest Radio Ministries send enough money for flour to feed these 30 families for two months. We also provided funds for private medical treatment for a man who was shot four times and couldn't go to the hospital because he was a Christian.
Testimonial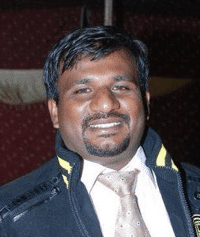 We had a wonderful food distribution program on May 28. … The day of the prayer meeting, we all got together and got tables and carpets and a microphone for the prayer meeting. Some young boys helped set up the stage and placed the bags of wheat for the families. … After the Word of God, we sang one more hymn, and then I shared with people how we [Victor and Larry Spargimino] met … and how we had distributed Bibles and now the food. … The people were praising the Lord and were thanking God. … We would call each family member on the stage and they would come and shake hands with me and would receive the full bag of wheat and would praise the Lord. … It was such a great blessing to see the smile on the people's faces and them thanking God and praising God.
—Victor Sammuel
Offerings for Pakistan Mission
If you feel the Lord leading you to support this important missionary effort to Pakistan, we are privileged to have you as our partner in faith.
There are several ways to support our mission in Pakistan:
Online on our website by using your credit card
Call on our toll-free number: 1-800-652-1144
Mail in your offering to Southwest Radio Ministries, P.O. Box 76834, Oklahoma City, OK 73147
All offerings and contributions to Southwest Radio Ministries are tax deductible.